Why So Many Beginners Quit the Guitar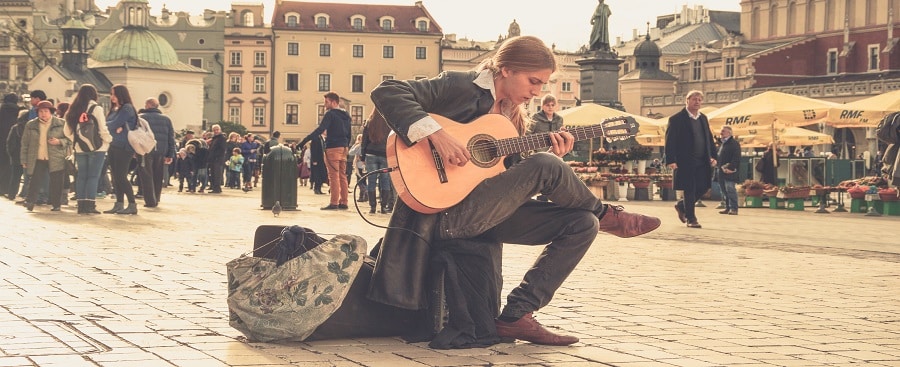 Every year, millions of people around the planet pick up a guitar for the first time.
But only a tiny fraction of these beginners actually become guitar players.
The vast majority of folks quit within a few months.
That's definitely what happened to me.
In fact, I've given up countless times. And I would have continued quitting if I hadn't discovered a viral video that changed my whole approach to guitar learning.
How could just one video have such an impact?
Before answering that, it helps to understand the 2 main reasons why so many people quit the guitar:
Let's take a look.
Problem 1: When Guitar Playing Becomes Frustrating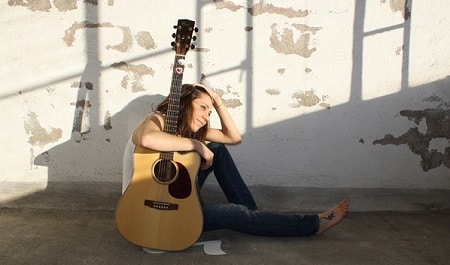 Think back to what inspired you to first pick up the guitar. Chances are, it was a catchy song by one of your favorite artists.
And that makes sense. When we hear a great tune, we wanna play it.
But I bet that song was a lot harder than you thought it'd be.
It almost always is.
And that's part of the problem.
If you pick songs out of your league, you'll get very frustrated – very quickly.
Most people stop right there:
They try.
They fail.
They quit.
End of story.
A small fraction of people push on anyway. They summon their willpower and stick with it. Those brave folks are the ones who eventually become real guitar players.
But what about the rest of us in the middle – i.e. those who neither quit nor improve?
We realize that our favorite songs are too hard (for now). But we're not ready to give up just yet.
So we start looking for easier tunes to play.
But this often leads to Problem #2.
Problem 2: When Guitar Playing Becomes Boring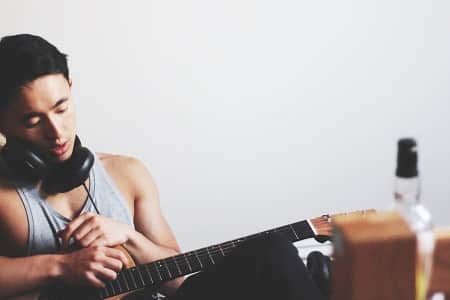 Starting with easier songs makes a lot of sense.
But the range is limited.
There are only so many fun tunes out there for beginners.
And if you ask experienced guitarists for recommendations, you'll hear the same suggestions again and again:
Knockin' on Heaven's Door by Bob Dylan
Three Little Birds by Bob Marley
Blowin' in the Wind by Bob Dylan
Maybe you like these tunes. You might even love them.
But your affection won't last long.
And here's why.
To get really good at these songs, you're gonna have to practice them hundreds of times.
That's what it takes to get better.
Blowin' in the Wind might be your favorite song today. But it won't be after playing it 50 times a day for the next 3 weeks.
You'll definitely improve. Everyone does.
But you'll also get bored.
It's inevitable.
No one enjoys practicing the same song again and again.
So if you don't quit out of frustration, you'll eventually quit out of boredom.
I almost gave up for good as well.
And then I stumbled across the Axis of Awesome.
The Viral Video That Changed My Life
The Axis of Awesome is a comedy rock band from Australia. Back in 2011, the group published "Four Chords" – a video medley of pop songs that all use the same chord progression.
Over 40 songs are featured in the clip below – from the Beatles to Akon to Lady Gaga.
If you already know basic music theory, there's nothing earth-shattering about this video. This 4-chord progression is a staple of popular music.
But when I saw this video, something clicked.
I realized I didn't have to play the same song over and over.
With just a handful of useful chords, I could play hundreds (maybe thousands) of easy tunes.
So I created a searchable index of guitar songs organized by the chords they use.
This database wasn't perfect. After all, I pulled the info from user-generated sites like Ultimate-Guitar.com and Chordie.com:
Some tunes were transcribed very well.
Other guitar songs – not so much.
But overall, this approach was incredibly useful. I could easily see relationships between songs and their chords.
However, I ran into a snag.
The database was huge, with over 350,000 tunes and thousands of unique chords.
Could I really learn thousands of chords?
Could you?
Where would you even begin?
But then I found inspiration from an unlikely source – Mandarin Chinese.
Hacking the Chinese Language to Learn Guitar
Nanjing, China is a huge city with more than 8 million people. But there aren't many English speakers.
So when I lived there briefly, it became clear I'd need to learn Mandarin Chinese.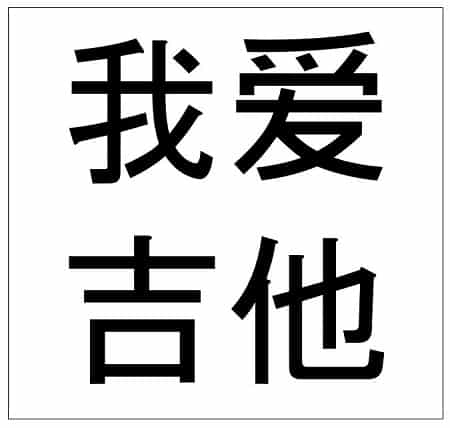 It was a simple matter of survival.
But Mandarin is hard. Like really really hard.
The language has over 50,000 individual characters, many with multiple pronunciations and definitions.
But one day, my Mandarin teacher shared something that blew my mind.
She told me that with the 3,000 most frequently used characters, I could understand about 80% of a standard Chinese newspaper.
That's it.
I didn't need to learn all 50,000 characters. By focusing on the 3,000 most important ones, I'd become a Chinese literate.
The same is true in other languages:
And when I looked at my song database, a similar pattern emerged.
There were thousands of unique chords. But I didn't need to learn all of them. By focusing on the most common ones, I'd become a guitar literate who can play thousands upon thousands of songs.
Don't believe me?
Try it out yourself.
Create an account (if you haven't already). And do a search of 4 easy chords like G, C, D, and Eminor.
You'll discover more playable songs than you thought possible.
In fact, you'll need to use the genre and decade filters to control the flood of results.
And that's pretty cool.
But it gets better.
Finding the Sweet Spot between Playable and Likable Songs
Chord Genome helps you find that perfect Sweet Spot where playable tunes and fun songs overlap.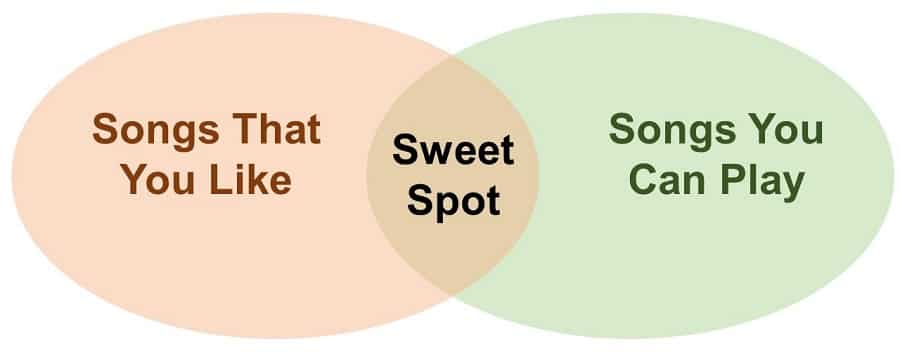 With any combination of chords, you can easily discover the ideal comfort zone for your practice.
And your repertoire grows exponentially as well.
All you have to do is:
Enter the chords you already know.
Find songs that use those exact chords.
Choose 10, 50, or 100 tunes you really like.
Keep cycling through the songs you've picked.
Don't stop until you've mastered those chords.
This approach makes practicing far more enjoyable. That's because every tune is within easy reach.
And this eliminates Problem #1 (i.e. Frustration).
This endless variety also means you're not stuck playing the same tune for weeks. You have thousands of songs at your fingertips.
And that eliminates Problem #2 (i.e. Boredom).
Log in today and try it out yourself.
If you'd like to learn more about using Chord Genome's search feature, be sure to read this article.
And if you're new to the Chord Genome Project, create create an account today.
What Songs Can I Play
with the Chords I Know?
To find out, use the Search tool below.
Add your chords to the search bar below.
Important: The ability to add your own chords allows you to create a list of songs tailored to your skill level. Enter familiar chords, and every song will be an easy one (by definition). You can also use genre and decade filters to target music you actually want to play.
You'll Become Addicted to Playing Again
Learn how to overcome the biggest hurdle(s) holding you back.
Tired of playing the same songs?
Take the chords to that tune and run a search. You'll see tons of music you
could
be playing instead.
For example, here's a
Sample List
of Classic Rock songs with
G, C, D, Em
.
Plug in your own chords, genres, and decades, and you'll
NEVER
be bored again.
It's impossible.
Better still, you'll pick up your instrument more often - and hold onto it a little longer every time.
And that's the secret to improving - i.e. time spent with your craft.
My progress is slow and painful.
When you're frustrated, it means you're trying to play music you're not ready for yet.
Here's a better approach:
Run a search of all the chords you're comfortable with. You'll see a massive list of songs that use those exact chords.
This list represents your comfort zone. But it's only a starting place. You'll eventually grow tired of those songs and be ready for slightly harder music.
When you're ready to "improve," try adding a

Wildcard

to the chords you already know. You'll see a huge collection of songs that are just outside your comfort zone. Every tune is literally one chord away.
If you can establish a baseline and add just one more chord (and then another) - you'll NEVER be frustrated again.
Playing just isn't fun any more.
In the beginning you
wanted
to play. Now you feel like you
should
play.
Music has become a chore. And it no longer brings you joy.
The secret lies in finding that
Goldilocks Zone
of music that rewards and challenges you.
When you have instant access to hundreds (if not thousands) of songs that all use chords you know, you won't be able to put your instrument down.
And when you add a
Wildcard
, you'll see thousands of songs that are well within your reach.
Follow this simple formula, and you'll become addicted to playing again - guaranteed.
I don't know enough chords yet.
You need at least 3 chords to run a search. And with those chords, you can do a
LOT
of damage.
For example, here are sample lists of 3-chord songs with
G,C,D
and
A,D,E
and
C,F,G
and
DGA
.
If you don't know
any
chords yet,
start here
. You'll see easy tunes with 1, 2, and 3 chords (for your instrument). And you'll be playing music in no time.
Once you know 3 (or more chords), come back here and run a search.
I don't know what to do next.
That's easy to fix.
Add whatever chords you know to the search tool above. You'll see a huge list of songs with those exact chords.
Start there and enjoy yourself.
Then, ask for the
Next Best Chord
and run a new search.
You'll see even more amazing songs - all of which are 1 chord outside your comfort zone.
Rinse and repeat.
To see what that looks like, here are
INTERACTIVE
examples for
Guitar
,
Ukulele
,
Mandolin
, and
Banjo
.
It really hurts when I play.
Callouses on the fingertips are normal. And your arm will get tired from strumming all day. But if you start to feel muscle or nerve pain - STOP.

Never play through pain.

In fact, using my site will only make things worse (the whole point of the Chord Genome Project is to get you addicted to your instrument).

It sounds like reverse psychology, but it isn't. I absolutely want your money and would love for you to stay onboard for a long time. But that won't happen if you're sitting on the sidelines (temporarily or permanently) nursing an injury.

Rest. Recover. Then come back.