On the Search and Library pages, there is an option to "Choose Instrument."
When you expand it, there are 2 sets of filter:
One for "Chords" Diagrams
Let's explore how these 2 filters work.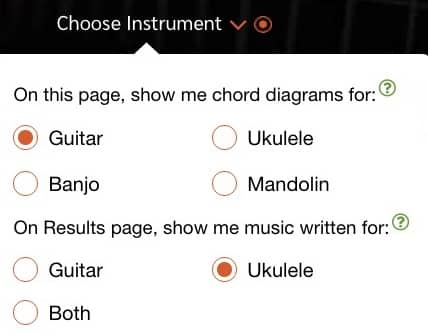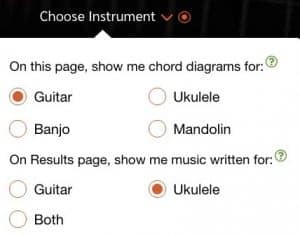 Filter 1: Show Chord Diagrams for Your Instrument
On the Search and Library pages, you can mouse over chords to see diagrams for your chosen instrument.
The default setting is for guitar. But you can also see chord diagrams for:
These diagrams are available for the 23 most important beginner chords (all marked in orange). Black chords do not have diagrams.
See below.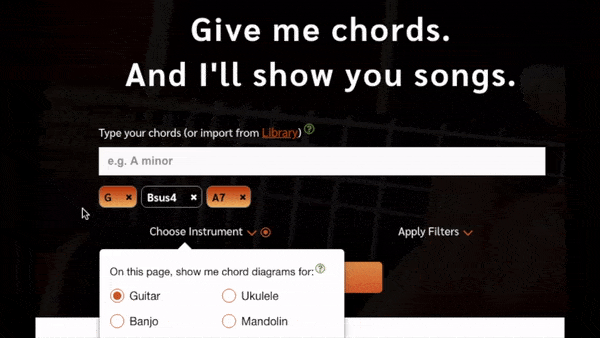 Filter 2: Show Music "Written" for Your Instrument
The songs displayed on the Results page are all pulled from guitar and ukulele websites. And you can choose to only see music written for one instrument or the other.
However, it's best to use the default setting (i.e. "Both" instruments).
That's because there's no difference between music written for rhythm guitar and the ukulele.
If you look at both versions of "Twist & Shout" below, you'll see what I mean.
Twist & Shout - Version 1
Twist & Shout - Version 2
What Songs Can I Play
with the Chords I Know?
To find out, use the Search tool below.
Add your chords to the search bar below.
Important: The ability to add your own chords allows you to create a list of songs tailored to your skill level. Enter familiar chords, and every song will be an easy one (by definition). You can also use genre and decade filters to target music you actually want to play.
You'll Become Addicted to Playing Again
Learn how to overcome the biggest hurdle(s) holding you back.
Tired of playing the same songs?
My progress is slow and painful.
Playing just isn't fun any more.
I don't know enough chords yet.
I don't know what to do next.
It really hurts when I play.