On the Search page, you'll find an option to "Choose Your Instrument."
The default is guitar, but you can also select ukulele, banjo, or mandolin – all with standard tuning.
Choosing your instrument allows you to mouse over certain chords (on the Search and Library pages) to see fingering diagrams.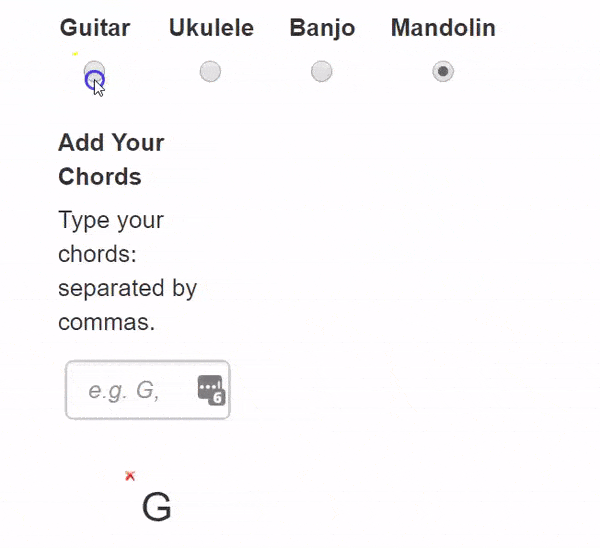 These diagrams are simply guidelines, and you're free to use alternate fingerings if you want.
However, there are 2 things you should keep in mind.
1. The 23 Most Important Chords
Diagrams only exist for the 23 most important chords on the guitar, ukulele, banjo, and mandolin. These select chords form the backbone of the:
2. You'll See (Mostly) Guitar Music
There are more guitarists in the world than ukulele, mandolin, and banjo players (combined). As such, the vast majority of songs indexed by the Chord Genome Project are pulled from guitar websites. This approach maximizes the number of tunes you can search for and play.
But…
What if you're learning the ukulele, mandolin, or banjo?
What if you use non-standard tuning for whatever instrument you're on?
It doesn't matter.
When it comes to chords, music notation is 100% interchangeable.
If you look at both versions of Twist & Shout below, you'll see exactly what I mean.
Twist & Shout - Version 1

Twist & Shout - Version 2

One version was pulled from a ukulele site. The other came from a guitar site.
But it's impossible to tell which is which.
And that's the whole point.
No matter what instrument you're on, you can use "guitar" notation just as easily as you can use songs written for the ukulele, banjo, or mandolin.
If you haven't already, sign up for a Free Account today.
Good luck. And happy strumming.