The Rule of One: How to Cover More Ground in Less Time on the Guitar

Are you familiar with the following proverbs?
A journey of a thousand miles begins with a single step.
You must learn to crawl before you can walk.
Rome wasn't built in a day.
The wording may vary. But all these sayings express the same idea:
Master the basics first.
But it's really tempting to rush ahead. We love setting big, ambitious goals for ourselves like:
Losing 20 pounds before the summer.
Saving $1,000 over the next 3 months.
Learning a difficult song on the guitar.
There's nothing wrong with setting tough goals. If you have the willpower and stamina, you'll certainly succeed.
But human nature is tricky.
We tend to overestimate our own abilities and underestimate the work involved.
Progress doesn't happen as quickly as we want. And we become discouraged when:
We've only lost 2 pounds.
There's only $100 in the bank.
That song is only 10% complete.
At some point, we eventually give up. And we blame ourselves for our lack of willpower.
But willpower isn't the problem.
The reason we fail is because we set unrealistic goals.
We try to take on too much – too fast.
But by setting slightly smaller targets, the chances of success improve dramatically. That's because those smaller goals are easier to achieve.
And we stay motivated by all the tiny victories we rack up.
And that's precisely why I launched the Chord Genome Project.
This powerful platform helps you set smaller, more realistic goals on the guitar.
How exactly?
Step 1: Search for songs that use chords you already know. Fortunately, there are thousands of easy, fun tunes in the database.
Step 2: Keep practicing those songs until the chords are firmly in your comfort zone.
Step 3: Once you've mastered the material, you're ready to add a new goal to your practice.
But here's the thing.
It should only be one new goal.
Not ten. Not two.
Just one.
In fact, there's even a name for this approach.
Introducing the Rule of One.
What Is the Rule of One and How Does It Work?
We often think of guitar playing as a skill. And it is.
But it's really a collection of mini-skills that come together to create music.
Knowing a bunch of chords isn't enough. You also need to add:
Different strumming patterns.
Various picking techniques.
Intricate style and phrasing.
More gear (capos, picks, etc.).
The list of mini-skills is endless. There are loads of guitar tricks you can add to your playing.
But according to the Rule of One, you should only work on one goal at a time – never more.
Here's how that looks in practice.
Let's say you're a relative beginner on the guitar:
You know 3 chords (G, C, and D). And with these, you can play thousands of songs across multiple genres.
You also know a simple Up/Down strumming pattern. You use this same pattern with every song – regardless of its genre.
Nothing fancy.
But these chords and strumming are firmly in your comfort zone. You don't have to think about them because they're automatic.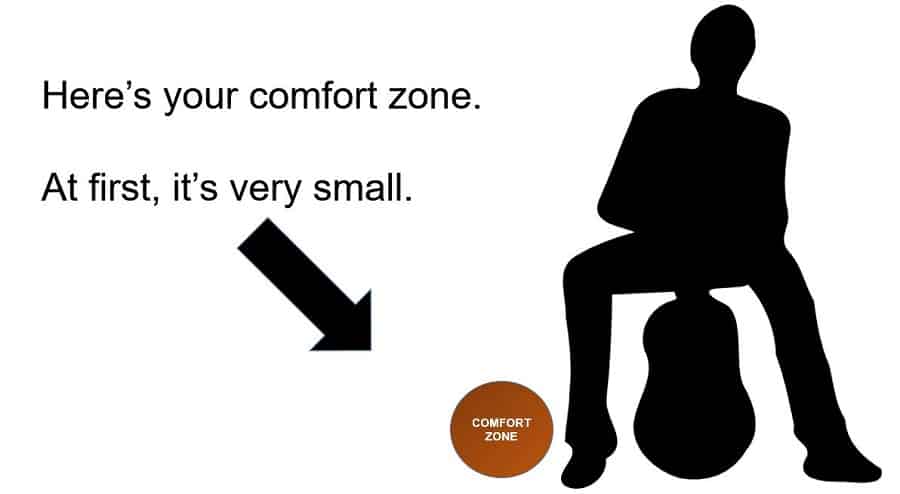 You're ready to expand your practice and tackle a new goal.
What should you focus on next?
Simple.
You can either:
Grow your repertoire by adding a new chord.
Refine your repertoire by adding a new technique.
Either way, you're only adding 1 new goal at a time. And you turn 100% of your attention to mastering that mini-skill until it becomes automatic.
Let's take a look.
Option 1: Grow Your Repertoire with a New Chord
If you ask Chord Genome for the Next Best Chord to learn, it might recommend Eminor since this chord unlocks the most playable songs.
In fact, you'll discover thousands of new tunes that use Eminor plus the 3 chords you already know (i.e. G, C, and D).
Play the songs you like. But use the same Up/Down strumming pattern as before.
The only new mini-skill you should focus on is Eminor.
Keep practicing as you weave this new guitar chord into your playing.
Eventually, you won't have to think about Eminor anymore. You'll be able to:
Play it without any buzzing or distortion.
Move to and from this chord without looking.
Transition quickly, smoothly, and effortlessly.
Eminor is now automatic. It's part of your comfort zone.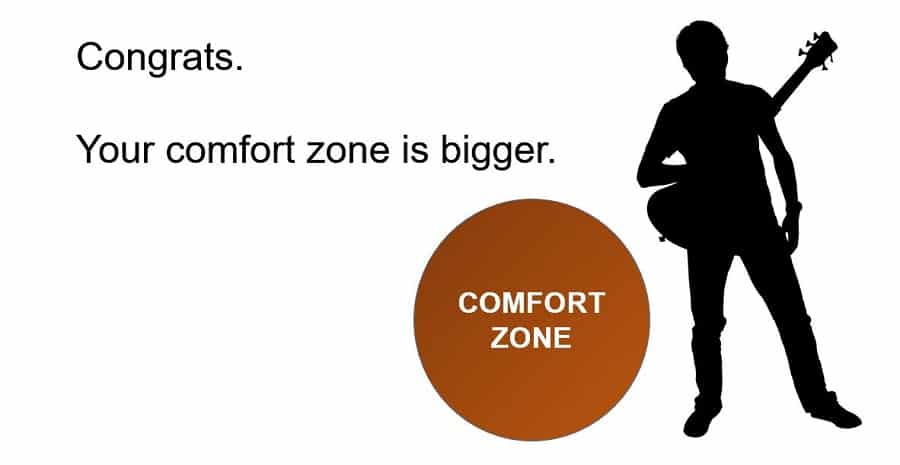 Your repertoire is also much larger now. And you're ready to tackle a new mini-skill.
You can continue adding more guitar chords one at a time.
But you can also refine your existing repertoire by adding new
strumming, picking, or solo techniques to the songs you already know.
Let's take a look.
Option 2: Refine Your Repertoire with a New Technique
Now that you know G, C, D, and Eminor, you can play thousands of tunes spread across countless genres.
But there's a problem.
All these songs kind of sound the same since you only know 1 strumming pattern.
Let's change that:
If you have a lot of Folk songs in your repertoire, look up strumming patterns for this style of music.
If you prefer Reggae tunes, focus on patterns better suited for this genre.
If you want to get super specific, you can even Google "strumming + [Song Name]".
Choose any strumming style you want. And use it on guitar songs you've already played in the past.
Keep practicing until it becomes automatic…
….until it becomes part of your comfort zone.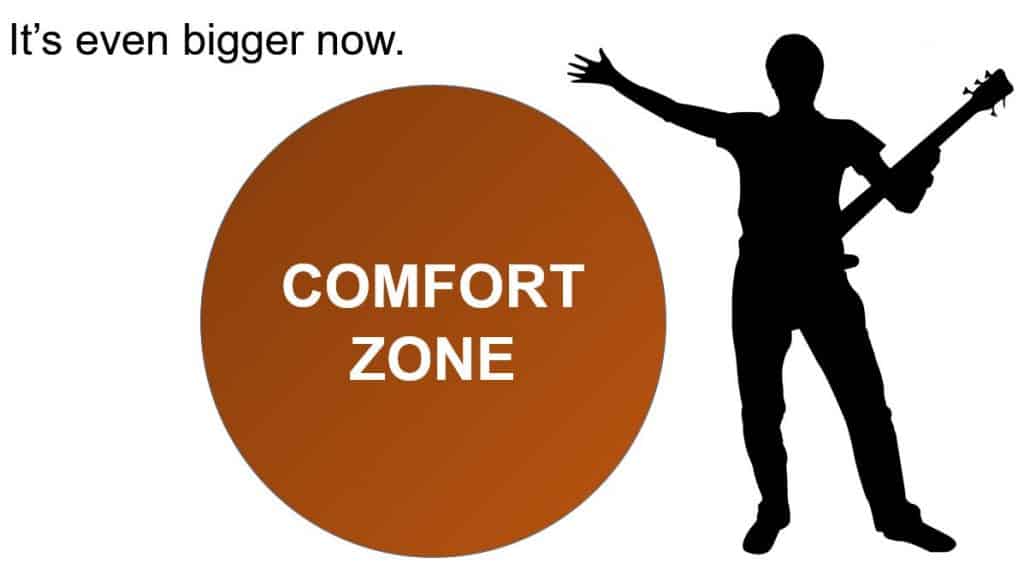 Your repertoire is the same size as before. But because you've added a new technique, many of your songs sound way more polished.
And now you're ready for a new goal.
But don't feel limited to learning chords or strumming patterns. There are lots of mini-skills you can explore:
If you don't know how to use a guitar pick, dedicate time to mastering this goal.
Never used a capo before? Try it out until you feel comfortable using one.
But only practice one goal at a time.
That doesn't mean you have to focus on that single mini-skill exclusively. You can alternate if you want:
Day 1: new chord + comfort zone.
Day 2: guitar pick + comfort zone.
Day 3: new chord + comfort zone.
You can even alternate within the same practice session – i.e. 10 minutes on one new goal and then 10 minutes on another.
But according to the Rule of One, you should avoid trying 2 new things simultaneously.
Still not convinced?
Read on.
Why Multitasking on the Guitar Is a Recipe for Failure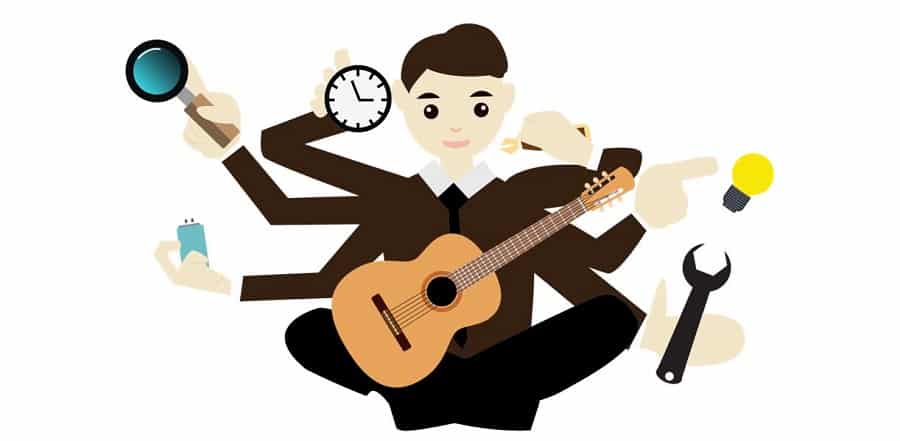 Multitasking isn't that hard. Lots of guitarists do it.
Surely you can too, right?
Maybe.
But multitasking doesn't work nearly as well as you think.
Even those who are good at it are far less productive than when they focus on one goal at a time.
Study after study after study supports this.
Check out the video below for more.
It's pretty straightforward.
Our brains just aren't wired for multitasking.
That doesn't mean we're unable to do it. Many folks can. And women tend to be better at it than men are (sorry gents).
But according to the science, you'll make more progress (in less time) if you focus on one thing – and only one thing.
That's because multitasking actually makes you up to 40% less productive.
And this holds true no matter how large your comfort zone grows. You could be a veteran player who knows tons of chords, solos, and strumming patterns.
You'll still be better off if you only add one new mini-skill at a time.
I know.
Incremental progress isn't sexy. And moving slowly doesn't sound like fun.
So wouldn't the Rule of One eventually lead to frustration?
No.
Just the opposite.
Trying to walk before you can crawl is a surefire way to frustrate yourself.
The same is true of any goal – be it guitar playing, weight loss, or saving money.
If you rush the process, you'll cover less ground... and take longer.
Your lack of progress will demotivate you.
And you'll probably quit.
But by making incremental improvements, you start racking up small victories along the way. And this is hugely rewarding.
Moreover, you'll make more progress in less time – guaranteed.
And remember that the number, quality, and complexity of songs in your repertoire will only grow as your comfort zone expands.
So you'll never get bored or frustrated.
Is the Rule of One an Absolute, Unbreakable Law?
The Rule of One is central to the Chord Genome philosophy. The entire platform is designed to spoon-feed you new guitar chords one at a time.
And as your repertoire grows, you can continue adding more styles until they become part of your comfort zone.
But the Rule of One isn't an unbreakable law.
There are exceptions.
For example…
Imagine you're a beginner who doesn't know any guitar chords.
According to the Rule of One, you should only add 1 chord. And there are even a handful of 1-chord songs in the database.
But they're pretty boring.
Adding a 2nd chord helps – but not much. At most, you'll discover about 150 playable tunes. And most of those are also quite boring.
The real magic begins when you know 3 chords. This unlocks nearly 4,000 playable songs.
And that's why you should start with 3 chords plus a simple Up/Down strumming pattern.
But make no mistake.
Going from 0 chords to 3 won't happen overnight. In fact, it took me weeks of practice to become comfortable. But once they became automatic, I began following the Rule of One exclusively.
And the results have been amazing:
My practice is laser-focused.
I master new material faster.
I never get bored or frustrated.
My progress is plainly visible.
Can the Rule of One help you achieve similar results?
Based on the science (and my own experiences), I'm 100% positive it can.
Try it out yourself.
And if you haven't already, create a Chord Genome Account today and start playing.