Play Thousands of Songs Using Just 5 Common Chord Progressions
The "All Keys" filter is a premium feature that lets you search for songs using common chord progressions.
For example…
If you do a search of G, C, and D, you'll see about 5,000 songs as a Gold user.
But with the All Keys option checked, you'll see more than 22,000 songs – all of which use one of the 12 chord combinations below.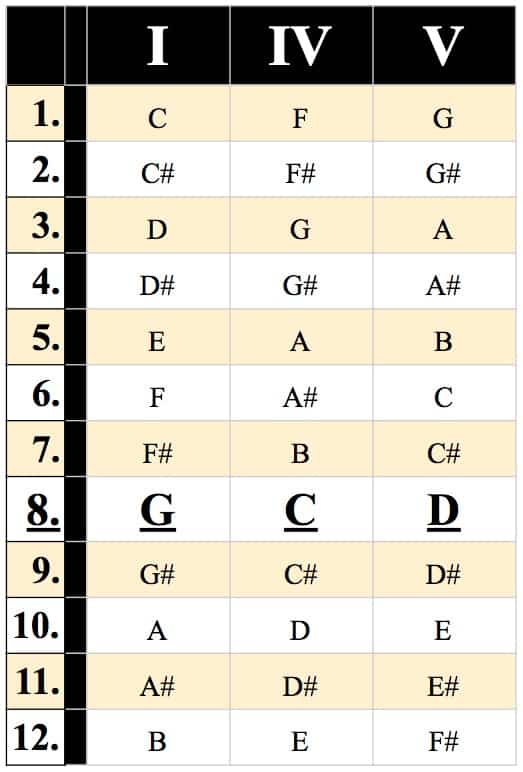 If a song uses one of the chord combinations above, it's playable with our original 3 chords (G, C, and D).
The exact order of these chords might change. So it's best to think of these as "chord buckets" instead of traditional "progressions."
In other words, there's no difference between:
Pop songs that use the I-IV-V chord progression.
12-bar blues that use I-I-I-I-IV-IV-I-I-V-V-I-I.
Both types of tunes use the same 3 chords.
But used correctly, the All Keys filter can help you find a ton of music within easy reach.
Better still... You're not limited to the I-IV-V cadence.
There are many other popular chord progressions you can search for as well - including the clickable ones below.
All of these chord progressions are identified with their Roman numerals. And I've also borrowed some nicknames from my buddies at Musical U.
I-IV-V Chord Progression Chart
12-Bar Blues Chord Progression (I-IV-V)
The I-V-vi-IV chord progression is arguably the most popular of all cadences. It's what the Axis of Awesome uses in the viral video below.
I-V-vi-IV Chord Progression Chart
Jazz Chord Progression Chart
I-V-vi-iii-IV Chord Progression Chart
vi-V-IV-III Chord Progression Chart
You Can Create Your Own Chord Progressions