Play Thousands of Songs Using Just 5 Common Chord Progressions

Learn the most common chord progressions in music, and you can play a lot of songs.
And I mean A LOT.
Just to give you an idea…
Imagine you learn G, D, Em, and C on the guitar (or C, G, Am, and F on the ukulele).
The following video features 50 timeless classics. And you could play every single one of them with your 4 chords.
That's because these are all songs that use the I-V-vi-IV chord progression.
If you've never seen this viral video before, it's definitely worth watching.
Axis of Awesome: the 4-Chord Song Montage
In addition, Wikipedia keeps a growing list of songs that also use this common chord progression. At the time of this writing, there are nearly 250 tunes in its collection.
And HookTheory's chord progression generator can show you songs to play. Do a search of G, D, Em, and C, and you'll get 392 matches.
But as you'll soon see, there are thousands of songs that use variations of the I-V-vi-IV sequence. And in a minute, I'll show you how to find them – quickly and easily.
Better still...
You're not limited to the I-V-vi-IV cadence.
There are many other popular chord progressions you can search for as well - including the clickable ones below:
In time, other popular chord progressions will be added to this list (especially if you ping me directly).
But before going further, we need to quickly cover:
What chord progressions are.

How they work in music.

Why they're worth learning.
Let's begin.
What Are Chord Progressions?

Chord progressions are sequences of 2+ chords that create tension, anticipation, and resolution in music. They drive the narrative of songs – similar to how Hollywood movies use time-tested plot elements to create interesting stories.
To be fair...
You don't need chord progressions to write hit tunes. There are plenty of 1-chord songs that don't use them at all, including:
Chain of Fools

by Aretha Franklin




Run the Jungle

by Creedence Clearwater Revival




Papa Was a Rolling Stone

by the Temptations




Tomorrow Never Knows

by the Beatles
But these are the exception. Most popular music uses some type of chord progression to tell a story.
How (and Why) Do These Cadences Work?

Some chord groupings sound very pleasant to the ear, which is why they appear so often in popular music.
Others sound jarring and dissonant. And you see these less often (if ever).
So what makes for a pleasing chord progression?
When you understand some simple naming rules, patterns start to emerge.
Because the same song can be played in many different keys, most chord progressions use Roman numerals (i.e. I, V) instead of letters (i.e. C, Am).
Below is a sample chart:
Uppercase numerals mean "major" chords.

Lowercase numerals mean minor chords.




Superscript "o's" mean diminished chords.
Major Chord Progression Chart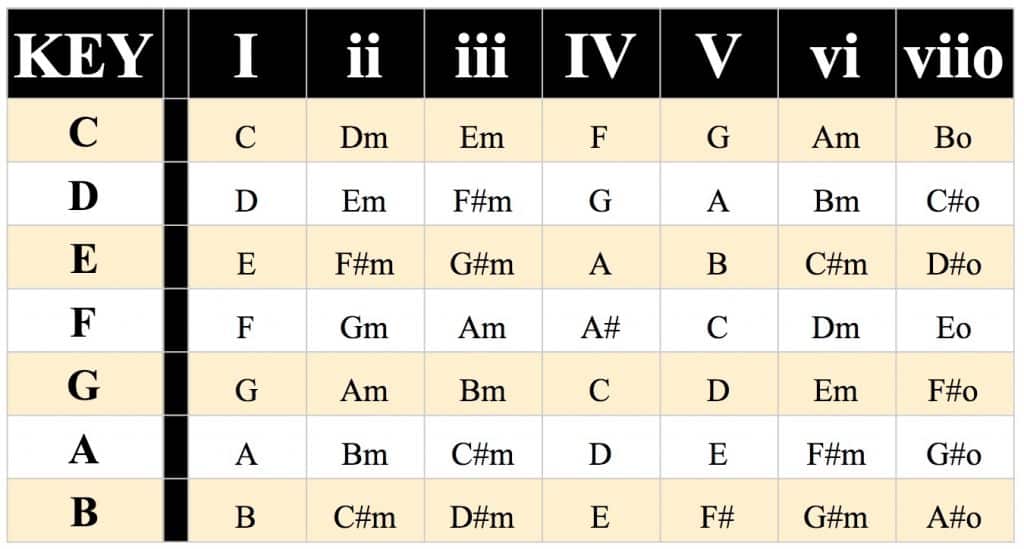 But how does this tie together?
Well, the general trend is to move:
Away from the "I" chord (or Tonic) to create tension.

Back toward the Tonic chord to provide resolution.
My friends over at Musical U have published an awesome chord progression chart showing this relationship. Notice how all the chords are naturally drawn to the Tonic.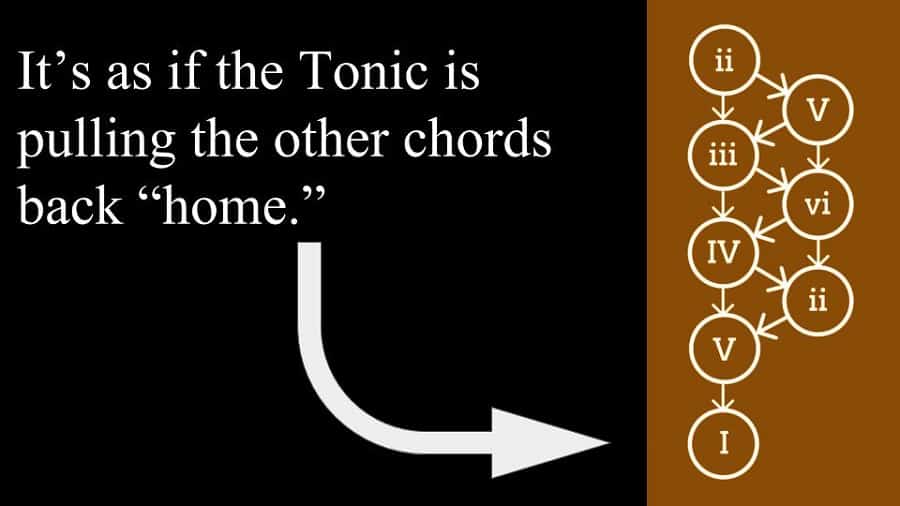 This rule is not set in stone. It's just one of many patterns.
But any song written with the above rules will likely feel more complete. It just sounds better since our brains are primed to recognize this winding sequence back to the Tonic.
This quick explanation of how chord progressions work only scratches the surface. If you want to dig deeper, here are 3 great resources to get you started:
Ok.
But why should you learn chord progressions?
There are actually many reasons. But in this article, I'll focus on 2 of the most important.
Reason 1: Learn Chord Progressions to Write BETTER Songs

According to VoicesInc.org,
By learning a few simple chord progressions, you can help take away some of the pressure when sitting down to write your next tune.
In other words, using chord progressions can save you a lot of time when writing songs. That's because these predefined templates are perfect for "musical" storytelling.
But wait.
Won't using the same chord cadences as everyone else make your songs sound boring?
Nope. Just the opposite.
They'll sound better - and more relatable.
And to see why, just look at Hollywood. We'll use Harry Potter and the Philosopher's Stone as an example.
Harry Potter is an orphaned child who lives in the "ordinary" world.

One day, he's called to answer some higher purpose.

At first, Harry's reluctant. But he discovers he has certain gifts.

Harry finds a mentor (i.e. Dumbledore) who helps him cultivate these gifts.

He then has a series of mini-adventures before finally defeating his enemy (i.e. Voldemort).

Harry returns home a hero.
Great story. But it's hardly unique.
Variations of the "Hero's Journey" appear again and again in film. Below are other examples.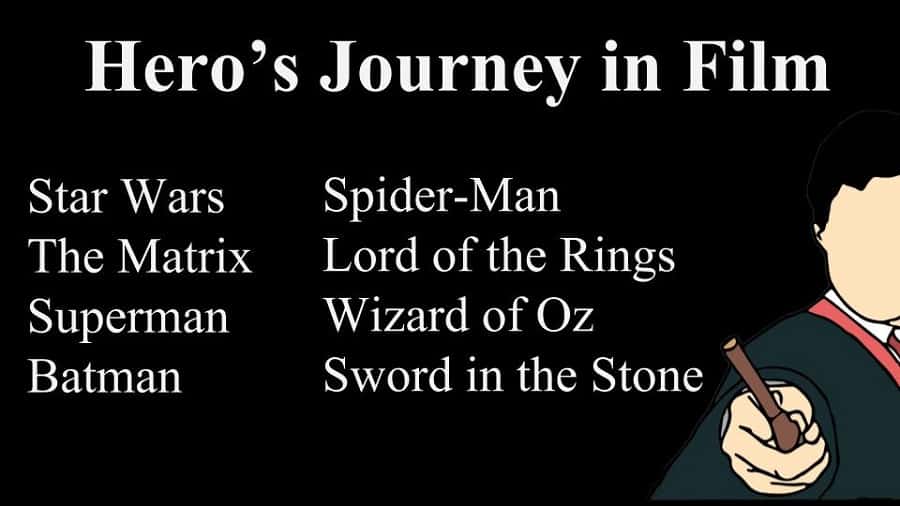 These movies all use the same formula. But it never gets old. Even Jesus, Moses, and Gilgamesh went on Hero's Journeys.
And we're hardwired to respond to this pattern.
The same is true of popular chord progressions in music.
We're hardwired to respond favorably to certain patterns - especially familiar ones.
And once you learn how chord progressions work, you can compose an infinite number of unique songs.
Now, let's look at the other reason why you should learn some common chord sequences.
Reason 2: Learn Chord Progressions to Play MORE Songs

This site already has a free Song Search tool that lets you find tunes based on the individual chords they use.
A search of G, C, and D, for example, reveals nearly 400 songs you can start playing right away.
But with these 3 chords, you can play a lot more than 400 tunes.
That's because any song that uses G#, C#, D# is also playable with G, C, and D. Both sets use the same I-IV-V chord progression.
In fact, there are 12 separate 3-chord combinations that follow this format.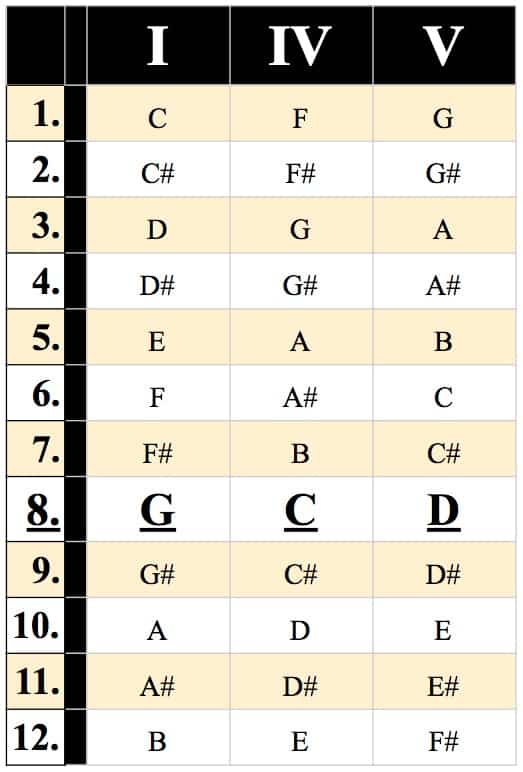 And if you did 12 separate searches, you'd find 1,400+ songs that are playable with your 3 starter chords: G, C, and D.
But with the new Search by Chord Progression tool, you can find all this music within seconds.
And that's just one simple guitar chord progression: I-IV-V.
There are many others you can search for as well.
But first, a few disclaimers. Reading these will save you a lot of time and frustration once you start doing searches.
Trust me.
Disclaimer 1: Some "Bad" Results (Guaranteed)
The songs in the Chord Genome Project are all indexed from user-submitted sites. Anyone can upload music to these platforms - amateurs and experts alike. So the quality varies.
Anyone can also edit or remove songs.
This means when you click on a result, you might:
Land on a non-working page.

See the wrong chords shown.
Faster indexing will help make the song database more current. But for now, follow these steps if you see a bad result.
Disclaimer 2: Not a Guitar Chord Progression Generator
This search tool isn't a chord progression generator. It only shows you songs that use predefined chord groups.
If you're looking for an online chord progression generator to help you write music, check out:
They're both fantastic resources (and a lot of fun to use).
Disclaimer 3: Chord Progressions vs. Chord Groups
If you do a search of the I-IV-V chord progression, you'll see 3-chord songs that use any combination of the I, IV, and V.
The order of these chords is ignored for matching purposes. So it's best to think of these buttons as "chord groups" rather than traditional "chord progressions."
This means there's no difference between:
3-chord pop songs that use I-IV-V

12-bar blues chord progressions that use I-I-I-I-IV-IV-I-I-V-V-I-I.
Both types of tunes use the same 3 chords.
But in the next section, I'll outline some useful hacks to help you separate pop from blues when doing searches.
If chord order is something you can't live without, you should check out HookTheory. They have an excellent guitar chord progression generator and search feature.
Ok.
Let's find some songs.
How to Search These Popular Chord Progressions

Below is a list of predefined chord progressions you can search for (as of now).
All of them are identified with their Roman numerals. And I've also borrowed some nicknames from my buddies at Musical U.
If you'd like me to add other chord progression buttons to this growing list, let me know.

Songs That Use the I-IV-V Chord Progression (Popular Kid)

The I-IV-V chord progression is a staple of popular music. You see it everywhere, including in:
La Bamba

by Ritchie Valens

I Still Haven't Found What I'm Looking For

by U2

Johnny B. Goode

by Chuck Berry

The Gambler

by Kenny Rogers
In fact, clicking on the I-IV-V chord progression button reveals over 1,400 songs that use the combinations below.
I-IV-V Chord Progression Chart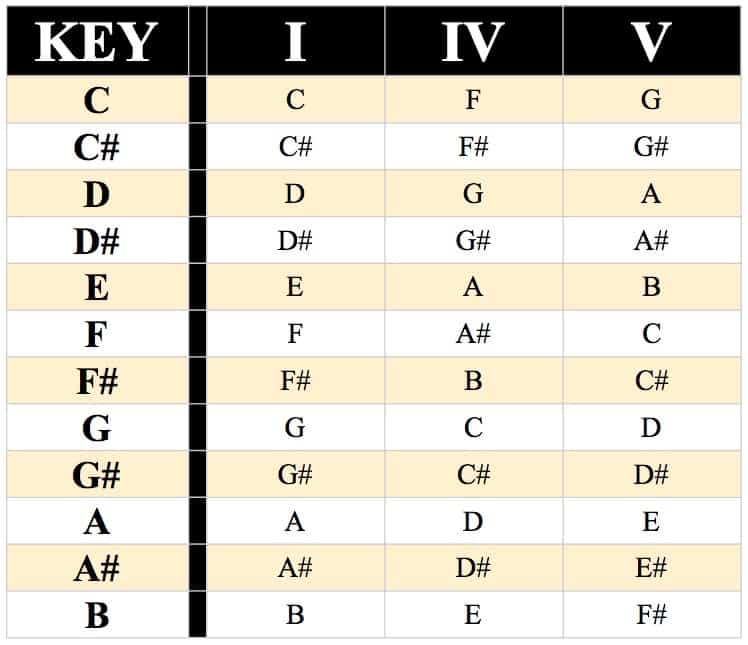 Songs That Use the 12-Bar Blues Chord Progression (I-IV-V)

There's no dedicated button for the 12-bar blues chord progression. That's because all variations of the I-I-I-I-IV-IV-I-I-V-V-I-I sequence use the same chords as the I-IV-V (with repeats).
But you can isolate "blues" songs using Genre filters.
Note that these filters are highly experimental. But they're still very useful.
And when you choose the I-IV-V progression, you'll "hopefully" see blues songs with the following chords.
12-Bar Blues Chord Progression (I-IV-V)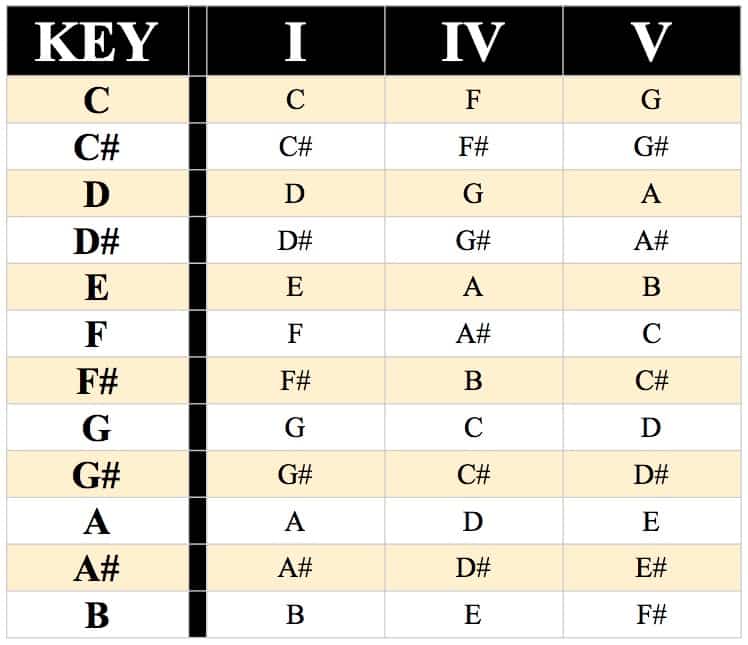 Songs That Use the I-V-vi-IV Chord Progression (Sensitive One)

The I-V-vi-IV chord progression is arguably the most popular of all. It's the one used in the Axis of Awesome video mentioned before.
Here are a few more examples of this common chord progression:
Stand by Me

by Ben E. King

With or Without You

by U2

If I Were a Boy

by Beyoncé

Mr. Tambourine

Man by Bob Dylan

All Too Well

by Taylor Swift
And when you choose the I-V-vi-IV chord progression, you'll see even more songs - all of which use the groups below.
I-V-vi-IV Chord Progression Chart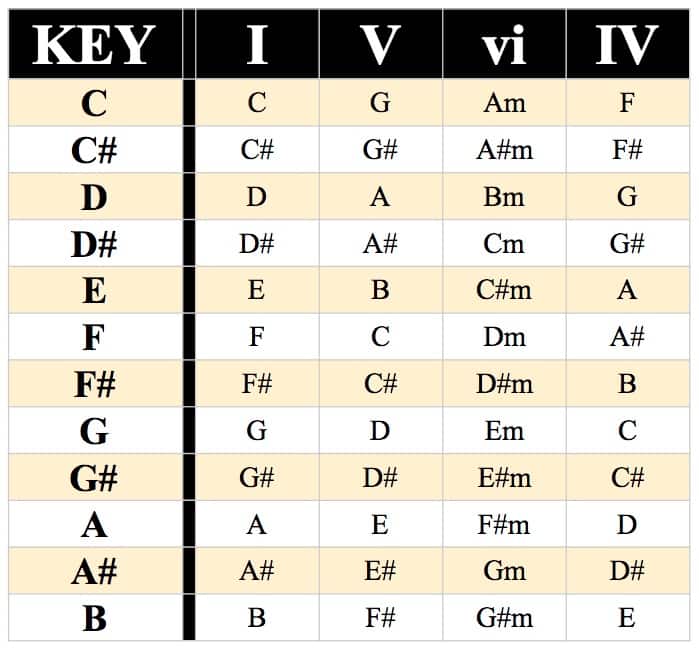 Remember that you can use Genre (and Decade) filters to zero in on songs that fit your musical tastes.
If you like Doo Wop music, for example, you can select the I-V-vi-IV chord progression button and choose 1950s + rock, pop, or soul.
Again, these filters are super beta. But they're still quite helpful.
To give it a try, head to the Search Page and choose the I-V-vi-IV chord progression option.
Songs That Use the ii-V-I Chord Progression (Jazz Cat)

According to UberChord,
The ii-V-I chord progression is the stalwart of the jazz idiom.

About 80-90% of all Jazz and American Songbook classics are comprised mostly, if not solely, of ii-V-I progressions.
This hasn't been my own experience when searching jazz chord progressions. I have yet to find much music from this genre.
I've added the ii-V-I chord progression anyway. If you know how to make this button more useful, drop me a line.
For now, you won't find much jazz. But you'll definitely see popular songs like:
Sunday Morning

by Maroon 5
Working Class Hero

by David Bowie
Wanted Man

by Johnny Cash
These all use the chords shown below. 
Jazz Chord Progression Chart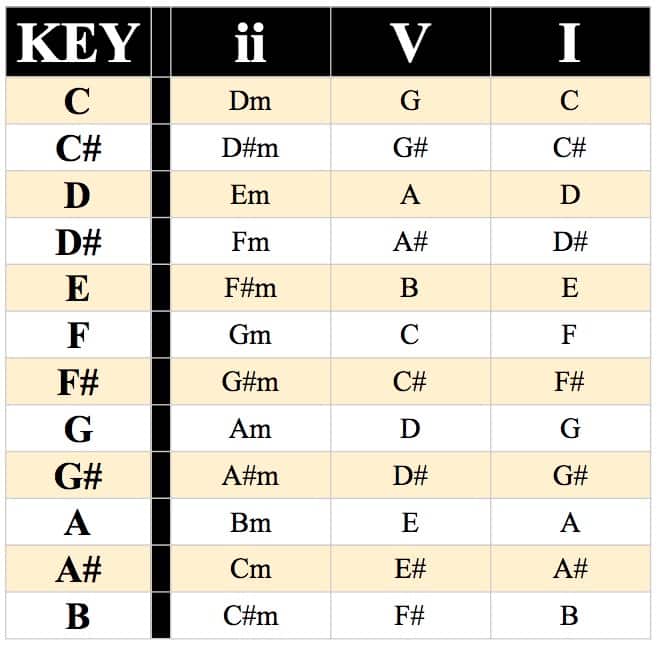 Songs That Use the I-V-vi-iii-IV Chord Progression (Pachelbel's Canon)

Johann Pachelbel probably wasn't the first composer to use the I-V-vi-iii-IV chord progression. But his Canon in D is the best known example.
Pachelbel's version uses I-V-vi-iii-IV-I-IV-V (with some chords repeating).
But variations of this popular chord cadence can also be found in:
Can't Help Falling in Love

by Elvis Presley

Enchanted

by Taylor Swift

One Tin Soldier

by Peter, Paul, and Mary

C U When U Get There

by Coolio
Clicking the I-V-vi-iii-IV button reveals songs that use the following chords.
I-V-vi-iii-IV Chord Progression Chart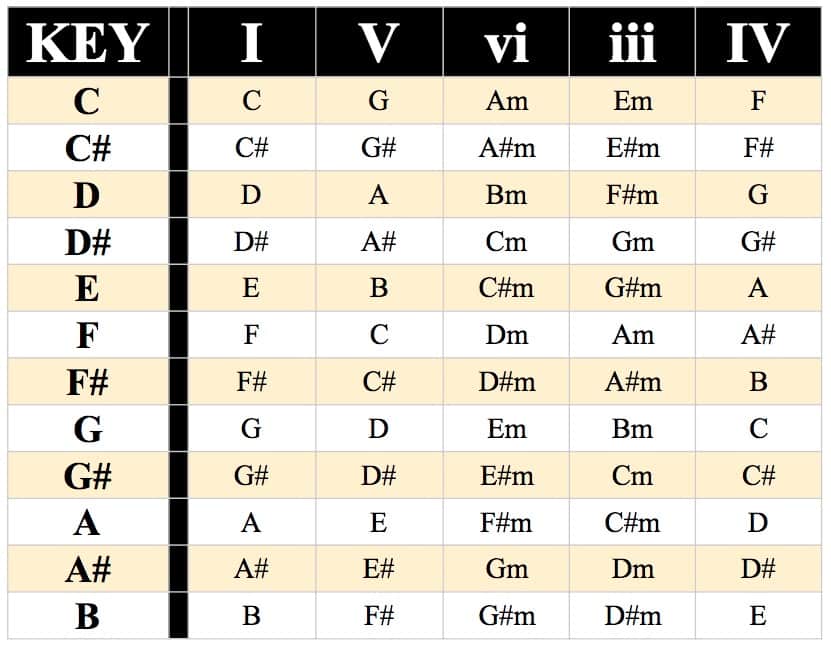 Songs That Use the vi-V-IV-III Chord Progression (Andalusian Cadence)

With the Andalusian Cadence, you get 4 descending chords that have a flamenco vibe to them. And you'll likely see a lot of Spanish-language music when you search for the vi-V-IV-III sequence.
The Andalusian Cadence is one of the oddest chord progressions in the bunch. For starters, the iii (minor) has been replaced with a III (major).
In addition, there's no Tonic (i.e. "I") to help resolve the song. As such, the vi-V-IV-III chord progression feels like it's constantly in motion.
Hit the Road Jack by Ray Charles is a prime example. Runaway by Dion is another.
When you search for the Andalusian Cadence, you'll see songs with the following chords.
vi-V-IV-III Chord Progression Chart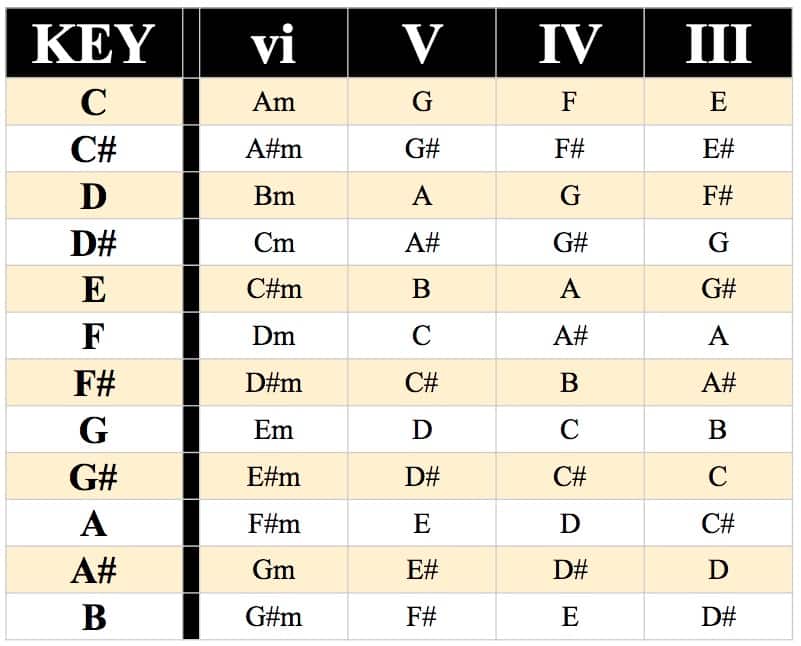 Am I Missing Any Useful Chord Progressions?

Want to see more chord buttons?
Not a problem.
All 350,000 songs in the Chord Genome Project's index are already encoded with chords in the backend. So adding new buttons is as simple as creating new tags.
Just let me know, and I'll do my best to add them.
In the meantime, head over to the Chord Progression Search page and start looking for songs to play.
If you'd prefer to search using individual chords instead, there's a free tool for that as well. 
And as always, happy strumming.
-Austin