Hundreds of Easy Ukulele Songs That All Use the Same 3 Beginner Chords

If you're looking for easy ukulele songs to play, there's now a free Search Engine that can help.
This tool lets you search for tunes – based on the chords they use.
Plug in any ukulele chords you want.
And within seconds...
You'll have a clickable list of songs that use those chords (and ONLY those chords).
For example, when you search for:
3-chord songs that use C, F, and G – you'll see 272 tunes.
4-chord songs that use G, C, D, and Em – you'll find 1,209 matches.
12-chord songs that use A7, Dm, E, G7, Bm, C, D, Em, A, G, F, Am – you'll get 9,277 results.
Not too shabby.
And later on in this article, I'll show you to grow that list into 1,500+ results (using just 3 beginner ukulele chords).
But how is any of this helpful?
Simple.
If you Google "easy ukulele songs," you'll keep running into the same titles again and again, like:
Somewhere Over the Rainbow (Israel Kamakawiwo'ole)
Three Little Birds (Bob Marley)
I'm Yours (Jason Mraz)
Riptide (Vance Joy)
These are all classics. But if you know the chords to these, there are hundreds (if not thousands) of other tunes you could be playing instead.
And that's one of the easiest ways to grow your repertoire – i.e. practicing songs that all use the exact same chords.
If you'd like to start creating a massive list of instantly playable songs, click on the button below. No sign-up is required.
However....
This article goes much deeper than "list-building."
It presents a novel approach to learning ukulele chords that is:
Actionable
Intuitive
Simple
Free
This new method isn't for everyone. But if you're a frustrated beginner, it can make learning the ukulele both easier and more enjoyable.
However, this post is very detailed (i.e. long). So to save you time, there's a Table of Contents below - complete with brief Video Summaries.
1,576 Ukulele Songs (with 3 Chords)
This section dives deeper into the site's "Song Search" feature. You can find an unlimited number of easy tunes using any combination of beginner ukulele chords.
What Chord to Learn Next?
No matter your level, there is always a "Next Best Chord" to learn. And this section explains exactly how to find it. If you know C, F, and G, for example, you should learn Am next.
The Chord-by-Chord Method
This section builds on the first 2 sections to outline a novel approach to learning ukulele chords. Simple and intuitive, this method can make the journey much easier.
Why This Method Works (Benefits)
The Chord-By-Chord method for learning ukulele works for several different reasons. This section goes over the 4 biggest benefits of this new approach.
Why Stop at 23 Ukulele Chords
You could continue using this method forever. But 23 ukulele chords is a great stopping point. And this section explains exactly why. It's my favorite part of the whole article.
Over 1,500 Easy Ukulele Songs That Use the Same 3 Chords
Have you ever seen those sites that'll show you all the dishes you can make with whatever's in your fridge?
SuperCook is a perfect example. Even with a few ingredients, you'll still find tons of recipes you can start cooking right now.
The Chord Genome Project does the same thing, but:
Instead of searching ingredients to find recipes….
You can search chords to find songs….
Even if you only know a few simple ukulele chords, you'll find hundreds of tunes you can start playing right now.
The 3 beginner chords below are easy on both the guitar and the ukulele. So we'll use these as an example:

When we do a search, we'll find nearly 400 easy ukulele songs that use those chords… and ONLY those 3 chords.
Check out the 20-second video below.
But how do we expand these 3-chord ukulele songs to 1,500+ results?
Simple.
Any tune that uses G#, C#, and D# can also be played with G, C, and D. That's because both sets of chords share the same relationship with one another. They're just a half step apart.
In fact, there are lots of 3-chord combinations that all share the same relationship as G, C, and D. And free tools like TabTuner can quickly transpose your chords up and down for you.
And when you run 12 separate searches, you end up with 1,576 easy songs - that all use the same 3 ukulele chords.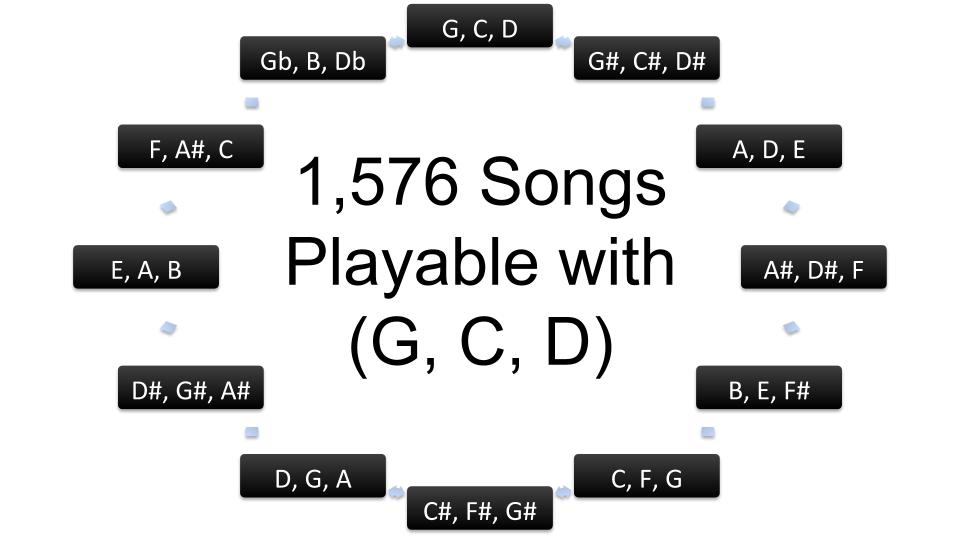 Not bad. We just turned 3 beginner ukulele chords into a huge collection of easy songs. And with a Free Account, you can follow these exact steps to create your own list of 1,500+ tunes.
Don't wanna do 12 separate searches?
Now you don't have to.
The "All Keys" filter is premium feature that lets you search for songs using common chord progressions. For example, you'll find over 1,400 different 3-chord songs that are all playable with G, C, and D (or C, F, and G).
Pick the tunes you like and start practicing.
4-Chord Ukulele Songs. What Chord to Learn Next.
Already have 4 ukulele chords in mind? No sweat. Do a search, and you'll discover songs that use those 4 chords (and ONLY those chords).
But what if you're graduating from our original 3 uke chords?

Which chord should you learn next?
The platform comes with a useful tool that can answer this question. It's called the Next Best Chord - and here's what it does:
It analyzes the ukulele chords that you already know.
It calculates which new chord unlocks the most music.
If you know G, C, and D, for example, the best chord to learn next is E minor (Em). 
And if you know a little music theory, this makes perfect sense. E minor completes the following 4-chord progression.

Variations of this 4-chord progression appear everywhere in popular music.
Everywhere.
There's even a music video poking fun at how often these 4-chord progressions occur.
The Chord-by-Chord Method to Learning the Ukulele
Now that you understand how the Song Search and Next Best Chord features work, you're ready to learn about this Chord-by-Chord method.
It's very simple. Super intuitive. And insanely actionable.
Let's start from the very beginning and assume that you don't know any ukulele chords at all.
As a total newbie, where would you start?
Easy.
Ask for the Next Best Chord (G major).
Add that to your first song search.
Discover 1 tune that uses G (and only G).
Practice that song until you master your chord.
Congratulations. You're officially making music.
Now, just repeat this process and ask for the next "Next Best Chord."
Plug that new chord into a new search. And you'll discover even more songs.
By definition, all those new tunes are exactly 1 chord away from being playable. And it's simply a matter of practicing these songs until you master that new chord.
Here's what that looks like:
After G comes C (15 practice songs).
Then comes D (almost 400 tunes).
Add Em next (1,200 practice songs).
Next is Am (2,000 results to choose from).
F is next (almost 4,000 songs to play).
At every stage, you're only working on ONE new ukulele chord.
And at every stage, you'll find plenty of songs to help you learn that new chord.
It's that simple.
This process can go on forever.
In fact, you could keep...
...learning new ukulele chords...
...one-by-one…
...2,000 more times…
And you still wouldn't exhaust every song in the Chord Genome index.
There's just so much music.
But is learning beginner chords one-by-one really the best strategy?
Not necessarily.
Let's take a look at some of the benefits and limitations of this approach.

Why the Chord-by-Chord Method Works
Learning ukulele chords one-by-one offers a lot of great benefits. And we'll get to those in a sec.
But this approach does have limitations as well.
For starters, the Chord Genome Project database isn't 100% perfect (for the reasons listed here, here, and here). And the platform will likely remain in beta until these issues are resolved.
Moreover, you won't learn technique or music theory. This method only focuses on learning beginner ukulele chords.
But here's what this chord-by-chord approach can do.
Benefit #1: It Makes the Repetition Less Repetitive
If you're only working on a single song, get ready for a lot of repetition.
Even if you love that tune, it gets real old - real quick.
But...
If you're working on 10+ songs that all use the same ukulele chords, the repetition becomes less repetitive. That's because each tune has a different melody, tempo, and backstory.
Benefit #2: You Get More Ukulele Chord Exposure
La Bamba (by Ritchie Valens) is playable with G, C, and D. And if you practice this tune enough times, you'll get really good at those 3 beginner chords.
Sort of. You see, the song repeats on an infinite loop.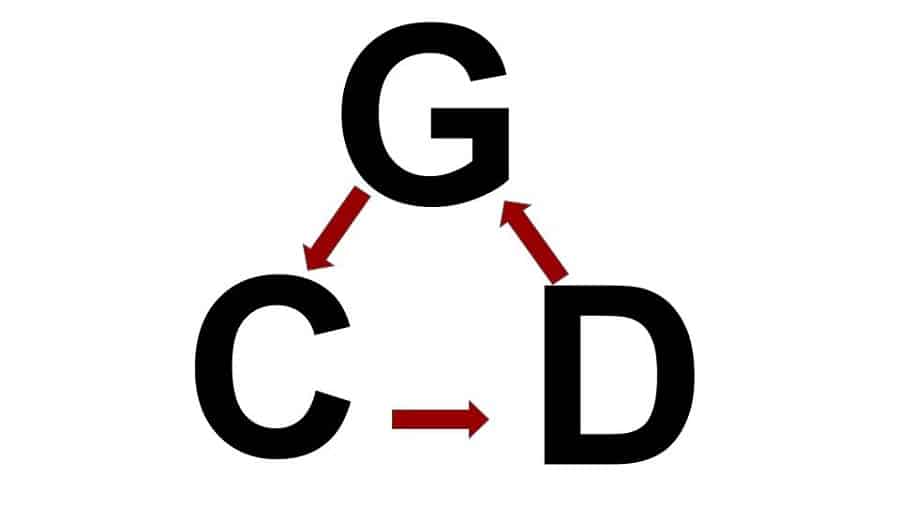 This means you could practice La Bamba a million times and never move from:
But adding other songs that also use those chords can help fill in the gaps.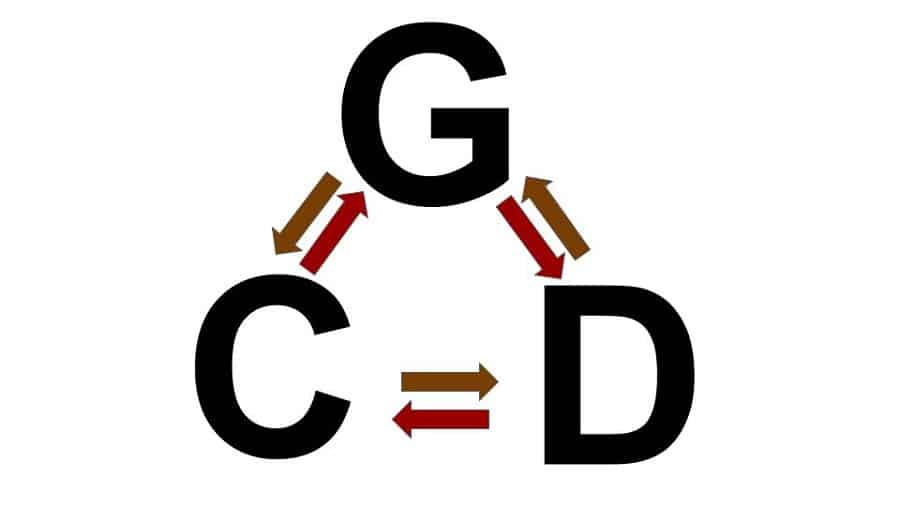 Benefit #3: You Build a Larger Repertoire of Songs
The fastest (and easiest) way to grow your repertoire is to practice tunes that all use the same chords. Instead of walking away with 1 new song, you'll pick up 10 or more - all at the same time.
That's a phenomenal return on investment.
Benefit #4: You're Less Likely to Quit the Ukulele
Learning any new skill (like the ukulele) takes time and effort. Resistance is already built into the challenge.
At first, this isn't a problem. Nearly everybody starts strong. And motivating yourself to practice is easy. 
Here's what the decision matrix looks like in the beginning.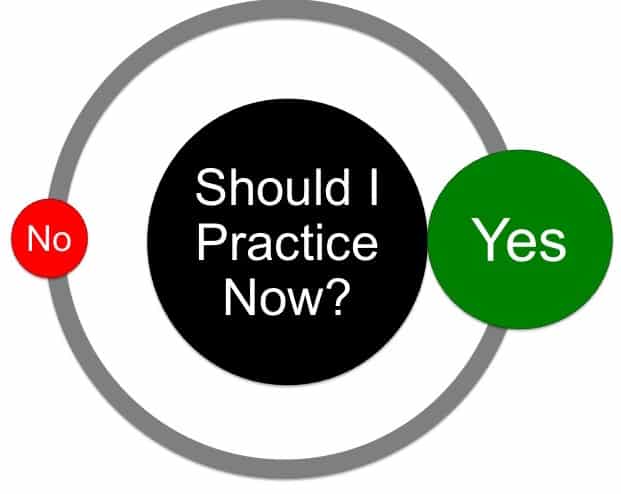 "YES" almost always wins out.
At first...
But the road is often harder than we thought it would be. And over time, we start putting off our practice goals with the same tired excuses:
Maybe later today. I've got a lot on my plate right now.

Definitely tomorrow. I'll have an entire afternoon free.

Next week, for sure. I'll work twice as hard to catch up.
It's just too easy to put things off.
Again and again.
These delays are especially easy to justify if:
You're only working on a single ukulele song.

That song has lots of unfamiliar ukulele chords.
And the decision matrix starts to look more like this.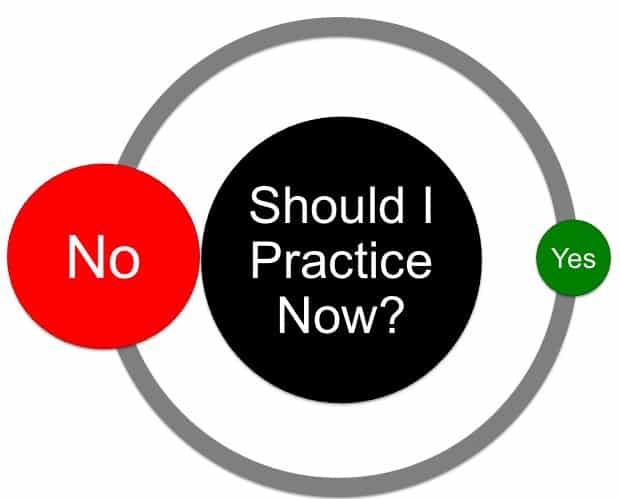 And the ukulele just sits there.
Judging you.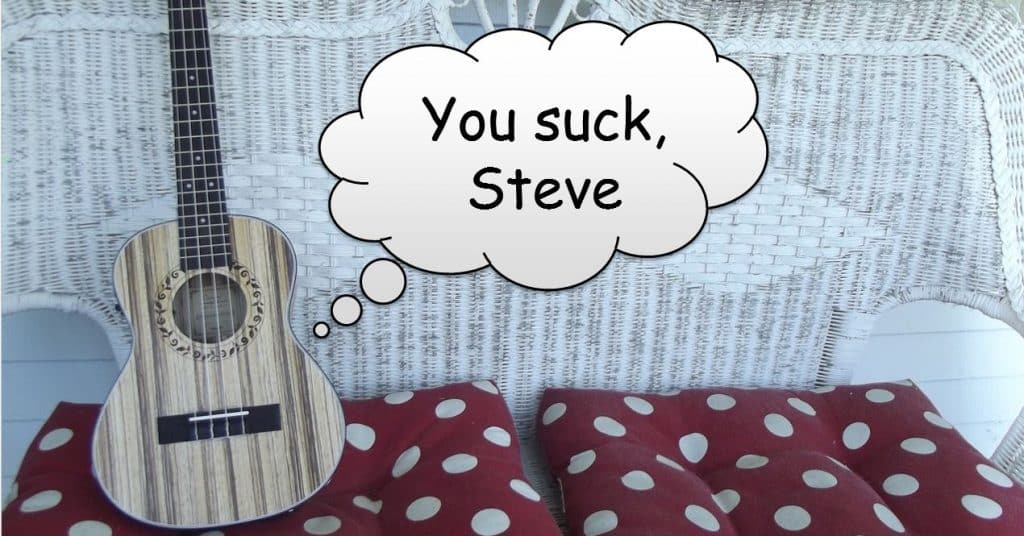 But...
When you're practicing lots of songs that all use chords you already know (plus one you don't), there's a lot less friction:
The goal is easier. You're only "learning" one new chord at a time.

The reward is larger. You walk away with 10+ new tunes all at once.
And the decision matrix looks more like this.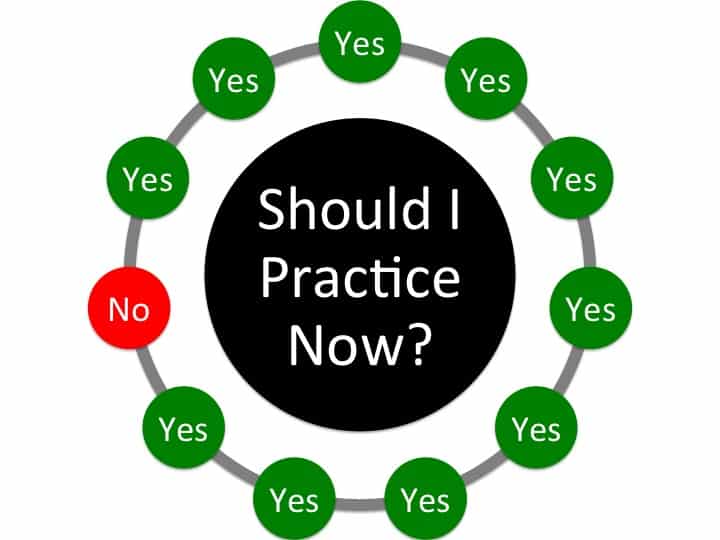 Note that "NO" is still an option. You can always choose to not practice.
But that option is crowded out by all the other choices. As a result, you're less likely to quit (and more likely to succeed).
That's because you have fewer reasons to ever put the ukulele down.
And that's the true secret to success.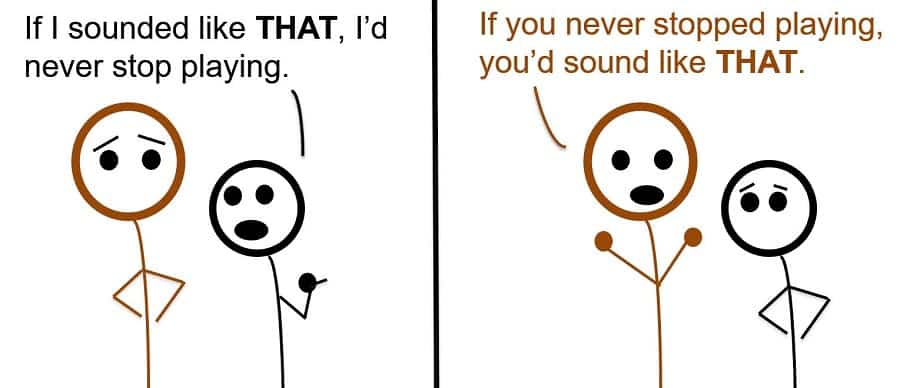 FAQs about This Ukulele Chord-Learning Method
Have questions about the Chord-by-Chord method? Hopefully, I've answered yours down below.
If not, feel free to ask your question in the comments. You can also email me directly.
1. Does This Method Only Work for Ukulele Chords?
No. It works with any instrument that uses chords - including the guitar, banjo, piano, accordion, and lute.
2. What If I Already Know Some Simple Ukulele Chords?
The Chord-by-Chord method works regardless of where you start.
It doesn't matter if you know 1 ukulele chord or 100. Either way, plug your chord(s) into the search engine and discover tons of playable songs. Pick the ones you like and start practicing.
Once you're ready, ask for the Next Best Chord. Do a new search and discover even more music.
And keep adding new ukulele chords one-by-one.
3. Why Do I Have to Sign Up to Use This Site?
You don't. There's a Demo Version that doesn't require any login. But registering with a Free Account gives you access to 10X as many songs.
A Free Account also allows you to save your prior work. That way, you don't have to "re-type" your chords every time you come back.
4. Do I Have to Pay to Use This Site?
No. The Free Account is 100% free - and will always remain so.
And as we've already seen, you can find 1,500 easy ukulele songs using just 3 beginner chords (G, C, and D).
But with a Gold Account, you'll see 10 times as many results (or 15,000 songs). This membership level also comes with 2 additional features - the Wildcard Filter and the Last Chord Filter.
5. Why Am I Seeing Guitar Songs in the Results?
This site was originally built for guitar players. But I've started adding more ukulele resources (like this article) now that I "play" both instruments.
However, there's no difference between guitar and ukulele music – at least not when reading chords.
If you look at both versions of Twist & Shout below, you'll see what I mean.


One of these is from a guitar site.
The other is from a ukulele site.
But it's impossible to tell which is which. And because guitar sites tend to have more songs, the Chord Genome Project uses them for now. However, if there's enough interest, I'll start adding ukulele sites in the future.
I'll admit that there is one downside to using guitar sites.
You can't mouse over chords to see the correct ukulele fingering.
That's a pretty useful feature.
But if you're only working on one ukulele chord at a time, you won't need to constantly look up the fingering. Memorizing your practice chord only takes a few minutes.
And if you ever get stuck, you can always refer to this chart of beginner ukulele chords.
Why Stop at 23 Ukulele Chords?
In theory, you could continue using this chord-by-chord approach forever. But I don't think you'll need to.
Learning new chords will become easier and easier. And eventually, you'll outgrow this method (that's precisely what happened to me).
But if you're looking for an "official" stopping point, I've got one for you.
I recommend learning the 23 beginner ukulele chords below (one-by-one and in the exact order shown).
"23" ukulele chords seems oddly specific. Why not choose a nice round number like 20 or 30?
Now that you understand how this chord-by-chord learning method works...
You're ready for the answer.
23 Chords Is the Magic Number (on Ukulele and Guitar)
There are nearly 350,000 songs in the Chord Genome index. And to play them all, you need 2,000+ ukulele chords (2,133 to be exact).
But… you only need 23 chords to play the majority of these songs.
That's not a typo.
With the right 23 ukulele chords – you can play 175,832 songs from a enormous collection of rock, jazz, pop, soul, country, gospel, and folk music.
That's 50.2% - or slightly more than half the song database. Check out The 23-Chord Challenge to learn more.
The point is, 3-chord ukulele songs are a great starting point. They're easy, fun, and abundant.
And if you learn new uke chords one-by-one, 23 is a great stopping point.
Reach this threshold, and you'll be able to play the majority of popular songs on the radio. And you can celebrate your 23-chord victory like a boss.
So.
Just one question remains….
What 3-Chord Songs Will YOU Start With?
This Chord-by-Chord approach isn't for everyone. But if you're having a tough time getting over that initial hump:
Start with easy ukulele tunes that only use 3 chords.

Keep adding new ukulele chords - one at a time.

Grow your music library by leaps and bounds.

Stop once you reach the 23-chord threshold.
To try it out, create a Free Account today.
And if you know anyone who's struggling on the ukulele (or guitar) - share this article.
Thanks in advance.
Good luck.
And happy strumming.